Getting Your Mind Back In The Gutters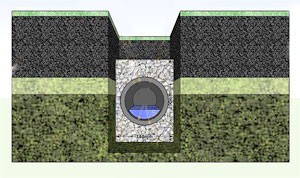 At AA Action Waterproofing, we often have to address adjunct causes to basement flooding in the process of remediation. However, there have also been many times when a proactive call for basement waterproofing has also led to discoveries that would also better protect the home. While there can be a number of causes for a wet basement, actual water incursion is one of the most common ones.
In these cases, excess water that is running across or in the ground can make it into the home through:
• Cracks in the foundation
• Porous building materials or poorly cured cement
• Broken basement windows or window seals
• Water erosion around the perimeter of the home
• Poor drainage across the extent of the property
Whether the solution for a wet basement is internal or external alterations, much of basement waterproofing involves the redirection of water to an appropriate area that is not within the home.
Into The Trenches
For both internal and external measures, gutters and French drains are one of the most effective solutions. When they are used on the property, they can act as catch basins that can channel the flow of water away from the foundation and the home, which eliminates the threat of constant flooding.
Internally, these types of gutter systems can also be employed, and will generally be along the perimeter of the basement floor. While these drains can connect with external gutter systems, they can also utilize a sump pump to further remove the moisture from the basement. In some cases, a blind drain in a low lying section of the floor can also aid in funneling the water out of the living space.
The truth is that these solutions are easy to enact, and are far more cost effective than having to deal with the stress and finances of repair and remediation. AA Action Waterproofing is always available for consultations and even emergency services that will ensure your basement stays dry and safe.
This entry was posted in Foundation Repair on August, 01, 2015