The Wrong Way To Waterproof A Basement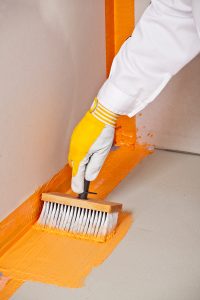 A wet, leaky basement can often send homeowners into a panic. They search the internet, ask friends and family, and conduct their own research to try and figure out the best plan of action—and it's highly likely that they'll get differing opinions.
When it comes to waterproofing your basement, there is no better option than hiring a professional with years of experience. This is the guaranteed quickest and most efficient way to handle the problem and ensure that you won't run into issues again in the future. As professional waterproofers, we've heard some horror stories from people who first attempted to take care of the problem a different way first before calling us. In the end, these options simply left them with a bigger mess on their hands than before!
Letting The Basement Dry—And That's It
Getting the water out of your basement is the number one priority when you encounter flooding or moisture. But often, once this stressful process is done, many homeowners feel exhausted or get caught up with other things on their plate and ignore any further action.
This is an unfortunate choice because it means they're simply ignoring the bigger problem. The fact that you have a leaky basement is actually an incredibly big deal. Whether it's a small leak in a pipe or cracks in your wall, do not simply let the area dry out and move on. Water damage can lead to a whole other mess of problems, including mold, mildew, termites, and structural damage. By not fixing the issue, you're inviting this to become a bigger and bigger problem until it could be completely unmanageable.
Trying To DIY
If you consider yourself handy around the house, you might be tempted to give a go at waterproofing your basement yourself. While we highly encourage home improvement projects, something as intensive and complicated as basement waterproofing should really be left to professionals. It requires a lot of materials, supplies, and equipment that you may not have, and even if you can afford to get it all yourself, you may not know the proper procedures.
Professional basement waterproofers are in business for a reason. They do their job better than anyone could ever do by him or herself. Not only do they simply have the experience to know the best ways to waterproof in certain situations, but they have the right tools and access to the best supplies as well as knowledge of industry trends.
Waterproofing Paint
Waterproofing paint can be an effective way to keep out excess moisture, however this is not the sole way to waterproof your basement. The name is certainly misleading! There is definitely no way that a few coats of waterproof paint will prevent water from entering your basement. This is another situation where homeowners are ignoring the bigger issue at hand, which could be leaky pipes or cracks in the foundation. And even if these aren't problems they're dealing with, waterproofing paint won't prevent it in the future. This is a cheaper choice that people go with, only to find they need to shell out even bigger bucks later on.
If you're interested in getting your basement waterproofed the right way, call AA Action Waterproofing today at 877-344-9654 for your free quote.