Decorating Ideas For Your Basement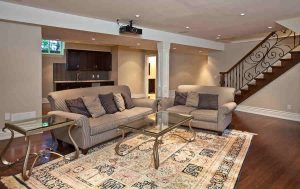 A basement doesn't have to be some dark space that you only use for storing your old belongings. More and more people are discovering that a basement can be an amazing place to set up a workout area, television or playspace, entertaining area, or even a bedroom. With a waterproofed basement, you can literally do anything in the space because you'll rest assured, knowing that the space will stay dry. So here's some inspiration to get you even more excited about decorating your basement!
Add Lighting
Basements sometimes lack in the natural light department, so why not create a lovely atmosphere with lighting of your own? Lighting has the power to truly create the mood in a place, so decide what you're going for first. Do you want something romantic or ideal for watching movies on your downstairs television? String lights from the ceiling. Want a bright, fun playspace for the kids? Lights that rest against the wall will stay out of the way of play time and make everything easy to see.
Lay Down Floor Mats
Many basements have concrete floors, but you may not love the idea of putting carpeting down. Floor mats are ideal for working out or having a comfortable space for the kids to play. These come in all sorts of colors and sizes, so you can choose which one works best for you. The best part is, they piece together easily and you can take them up in mere seconds, making them ideal for people who want their basement to be functional in many different ways.
Use Area Rugs
Rugs instantly make a space warmer and more inviting, so if you're considering turning your basement into a living space or hangout spot, this is a great choice. You can purchase area rugs of all shapes, sizes, colors, patterns, and textures, so it can really help you express your own unique taste.
Hang Curtains
If you have a wide expanse of a basement, it can feel pretty intimidating to decorate the whole thing. But do you really want to go through the hassle of installing walls down there? The perfect compromise is setting up curtains. Curtains can break up the area into smaller spaces, making the task of decorating much easier. It adds dimension and allows you to put everything you need in the basement without worrying about it clashing.
Make A Canopy Ceiling
Do you have rafters in your basement and want to make the space a little less industrial-looking? Hang a sheet or curtain and attach it to each beam, creating a billowing canopy effect. This is especially nice for bedrooms and those who desire a softer look to the ceiling rather than wooden beams.
Are you ready to redecorate yet? If you're considering making changes to your basement, make sure you waterproof it first. A waterproofed basement is perfect to turn into a functional, livable space that's for more than just storage. Call AA Action Waterproofing today at 888-922-5517 for more information about waterproofing homes in the Maryland area.