3 Reasons Why Water May Be Leaking Into Your Basement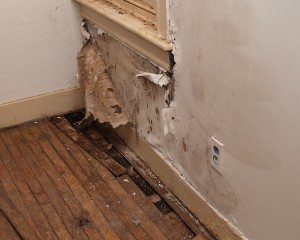 Finding water in your basement is a big headache, and it can lead to property damage, health concerns, and costly repairs. Eliminating the problem before it becomes a problem is always recommended, however when this isn't done, a person's first step is finding how just why water is seeping through in the first place. There are many reasons why water may be leaking into your basement, and these can vary from foundation cracks to unchecked condensation, but what homeowners must always remember is that in order to stop this leak, its source must be found.
The top 3 reasons why water may be leaking into your basement are:
1. Foundation cracks – When cracks are present in the foundation of a home, water may seep through and then enter your basement structure. These cracks can sometimes be seen around the outside of a home at its base, however this is not universally the case. If you are experiencing water seepage into your basement, but are unable to see any visible signs of cracking in the foundation, there are some other things you can look out for around the home that can be signs of foundation damage. Sloping or uneven flooring, window or door frame separation, and cracked brick inside or outside of the home are very telling signs that a foundation issue could be to blame.
2. Poor drainage – The drainage in and around a home is important when it comes to keeping water out sufficiently. Most homes have gutter systems in place to take rainwater and snow melt away from the home safely and deposit it elsewhere around the yard or property, thereby giving it a new location to settle in. When drainage systems are blocked, clogged, or broken, however, this can lead to this excess water pooling around the home and seeping in to a basement area.
3. Condensation – Condensation is one factor that is not always considered by homeowners, although it is incredibly common. Condensation occurs when cooler water traveling through pipes comes into contact with warm air, and water droplets begin to form on the outside of a pipe as they would on a cool glass of water. This can lead to moisture dripping down walls, onto carpets, and onto property, thereby contributing to basement water damage.
At AA Action Waterproofing, we investigate the cause of your leak before we take steps to make our repair, and this is done to ensure your specific problem is what is being remedied. If you are experiencing leaking in your basement, contact us today for help!
This entry was posted in Water Damage on April, 18, 2014