Flooded Basements – Why You Need Our Lifetime Warranty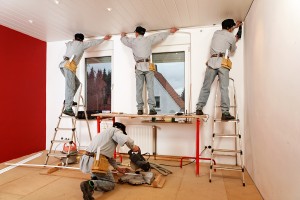 When it comes to repairing your flooded basement or getting your basement waterproofed in the first place, you have probably seen many different brands that have many different offers for you.
However, very few of those brands will offer you all of the following advantages:

A free, "no obligation" estimate that will give you a true picture of your potential investment.
A team that provides 27 years of experience based on the values of craftsmanship and service.
A lifetime warranty on many of the different services we offer that make your basement safe.
How is that possible? Let's explore it a little bit more deeply.
When It Comes To Keeping Your Basement In Working Order, Prevention Always Wins
Our ability to provide a "low price guarantee" combined with a lifetime warranty on much of what we do is based on one simple fact: Prevention is always easier (and cheaper!) than a cure.
When waterproofing your basement, we take every potential risk factor into account. We can protect your basement from both "sudden" flooding and "gradual" flooding — the latter being the kind of risk factors that property owners aren't typically aware of until it's too late.
By providing truly excellent service, we limit your exposure to damage — and limit the likelihood you'll need our services again. That's okay with us, because you'll be safe and happy. We work hard to earn your referral business.
Choose A Company That Stands Behind Its Work: Choose AA Action Waterproofing
We understand that, despite the best of intentions, very few businesses out there can offer a lifetime warranty on contracting work. With 27 years of expertise, we stand out because we know how to make sure that your results will last.
When you're looking for the best professionals around to provide you with the services you need for your home, you shouldn't rely solely on a website. Our team members will be glad to talk to you over the phone about our warranty and what it entails.
If you'd like personalized recommendations about your flooded basement situation, we can help you right away. We're always glad to provide a free, "no obligation" estimate of everything that you could do to make your basement more secure.
To get started, just call or email AA Action Waterproofing. We look forward to making you another of our many satisfied customers across Maryland, Virginia, D.C., and beyond.
This entry was posted in Basement Waterproofing on January, 05, 2015