6 Reasons Why Waterproofing Your Basement Is Worth It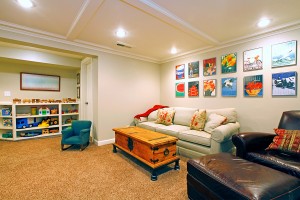 Your home is one of the single most important investments you'll ever make. That's why it's so important to regularly go through the process of renovating it, maintaining it, and repairing it. When issues arise, it's vital that you deal with them. In Maryland, one of the most important things you can do is protect your home from the high amounts of moisture that it faces every year.
Basement waterproofing is one of the most basic steps you can take towards doing this, but it's also something that many people put off. After all, why waterproof now when you don't have any leaks? We can understand, but here at AA Action Waterproofing we've seen firsthand just why it's so important that you waterproof your basement before a leak happens.
Here's a look at the top reasons you should do just that:
1. Maryland Weather Is Wet – Average rainfalls here are 41 inches annually, and many years have seen rainfall of 60 inches or more. In other words, your home will see plenty of water over the years. You need to ensure it's protected.
2. You May Not Notice A Leak Until It's Too Late – Let's face it: most of us don't head down into the basement every day. Because of this, there's a good chance you won't notice a leak for weeks or even months after it first occurs. That kind of time gap could be hazardous.
3. Leaking Basements Can Do Damage Fast – The time gap mentioned above is made worse when you consider that it can only take a few days for a leak to set up mold growth. Add in the risk of rot or additional foundation damage, and you'll see that a leak can cause major damage in a hurry.
4. You'll Save Money In The Long Run – By investing in waterproofing services now, you avoid higher expenses down the road. Things like mold remediation and foundation repairs can be expensive when compared to basic waterproofing.
5. You'll Keep Your Family Safe – Mold growth can cause numerous health risks including allergies, illness, respiratory issues, and more. By waterproofing a basement you keep yourself and your family safe from those issues.
6. You'll Get Peace of Mind – All of the five points above add up to this one. By waterproofing your basement you give yourself the peace of mind that your home is safe from water damage. That lets you rest easy and eliminates a huge amount of stress from your shoulders. It's money well spent.
If those reasons make sense to you – and they should – then don't hesitate to contact us at AA Action Waterproofing today. We'll get started waterproofing your basement and keeping your biggest investment safe.