Is Your Basement Ready For The Next Spring Melt?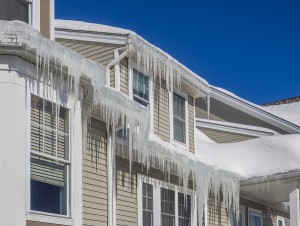 Depending on where you live, your local water drainage system is either not worth a second thought or it's the first and last thing on your mind every spring when the weather turns warm.
When you live on top of or along the side of a hill, you have basically nothing to worry about: when the snow melts and the spring rains pour you can feel reasonably certain that all the runoff will follow along with gravity and leave your house in peace. However, if you live in a valley or along a flood plain, then even if it doesn't flood outright the water table may rise to the point where it could seep into your basement and do some serious damage to the foundation.
If you fall into the second category, there are a few things you should remember to put on your checklist before the snow starts falling in the first place.
1. Are your gutters cleaned out? Fall leaves can easily clog your gutter system, causing snowmelt and spring rain to dribble straight off your roof instead of a safe distance away. It's important to address this before the winter freeze comes and makes it much harder to clear the leaves out.
2. Is your sump pump in working order? If you regularly have to deal with a high water table, then the last thing you want is for the pump that keeps it out of your basement to malfunction.
3. Is the floor of your basement clear of anything vulnerable? If your basement does flood by so much as a centimeter, it can do a lot of damage to cardboard boxes, books, electronics, and untreated wood. It can also invite a serious outbreak of mold and other household pests that damage carpets and fabric.
If you need some professional maintenance or repair work done on your basement or sump pump, and if you live in Maryland, Delaware, DC, northern Virginia, Pennsylvania, or New Jersey, then contact AA Action Waterproofing today while there's still plenty of time. As the saying goes, it's better to have it and not need it than to need it and not have it.
This entry was posted in Basement Waterproofing on November, 27, 2015