How To Spot Water Damage In A Finished Basement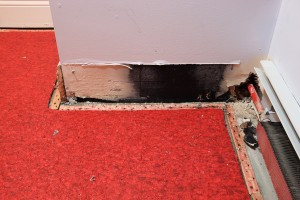 Water damage is more difficult to spot when your basement is finished. In a finished basement, the poured concrete surfaces are covered with drywall or paneling and flooring which hide the tell tale signs of water damage. Since there is a lot of money invested in a finished basement, routinely checking for water damage can protect your investment.
Walls
The first way you can check for water damage in your finished basement is by inspecting your walls. Some common signs of water damage to look for on drywall are brown stains, peeling drywall tape on the seams, and peeling paint. On paneling some of the common signs include staining and discoloration, the panels will buckle and warp, and nails will pop from swelling. The best way to check is visually but you can also run your hands along your walls and feel for warping and moisture. You can also check your windows and doors. If there is excessive condensation on your windows or if your doors jam or gap when you close them, you may have water damage.
Ceiling
Another place to check your finished basement for water damage is the ceiling. Some common signs of water damage on drywall ceilings are stains, peeling paint and tape, and the loss of structural integrity. The ceiling can bow or the drywall can crumble. In a drop ceiling some signs of water damage include brown spots, visual wetness, and bulging tiles. Like walls the best way to check your ceilings for water damage is visually but you can also feel and see if it is wet.
Flooring
The final place to check your finished basement for water damage is the flooring. With carpeted floors the signs of damage are wetness, a wet or musty smell, and staining. With hardwood floors the biggest sign of water damage is the floor will begin to buckle.
Laminate floors will show water damage by swelling at the seams and vinyl tile or linoleum the glues will break down and the tiles will begin to peel. You can check your floors visually but in the case of a carpeted floor with a tack strip you can also peel back your carpet and check the pad for moisture.
Checking your finished basement for the signs of water damage can help protect your investment. If you notice any of these signs of damage, you can call our licensed professionals at AA Action Waterproofing and they will inspect your home, find the root cause of the water damage, and provide you with a variety of solutions to ensure your basement is protected.