How To Get The Most Out Of Your Home With Basement Waterproofing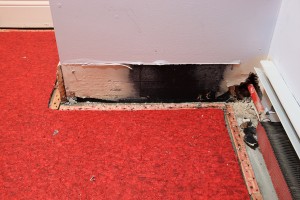 You may not think of your basement as anything other than a place to store disused items and family heirlooms. But your basement is whole floor of your home. Why let it go to waste when with a relatively small investment, you can put this often overlooked room to use for you and your family. Flooded basements are especially a problem this year with the polar vortex and brutal winter that's been hitting Maryland, Virginia and the northeast. By taking the time to waterproof your basement, you can turn your musty storage area in a vibrant, functional living area and increase the value of your home.
Before you can transform your basement into a room where your family will love spending time, you must take care of excess water. Stagnant, seeping water can erode your foundation, causing cracks and endangering your home's structural stability can even promote mold growth that can endanger your family's health.
A dank, dark basement is no place to spend any more time than you absolutely have to, so you'll want to not only get rid of any water, mold remediation may be required too in order to make the basement habitable. Once you've got a dry, mold free basement, you'll want to make sure it stays that way. Waterproofing your basement is the next step, and you'll want to make sure this important step is being done by qualified professionals.
Make sure you're hiring the best company possible when choosing a contractor. Check their qualifications and ask for references from previous jobs. Check with the Better Business Bureau, and see if they have any complaints against them, and how those complaints were resolved.
AA Action Waterproofing has over 27 years of experience in basement water proofing, and we'd like the chance to put all that expertise to work for you. Should you choose to work with us, you can rest easy knowing we'll do the job right the first time. We'll provide a free, no-obligation estimate of the work to be done, and we'll provide quick, efficient service. We'll waterproof your basement using the latest techniques and technology, from sealing cracks to installing sump pumps. Once we've waterproofed your basement, you can get started on creating a livable space, from a family room to another bedroom. We look forward to helping you get the most out of your home. Give us a call or use the online form on our website and schedule a visit for a free estimate today.