Damp Basement Blues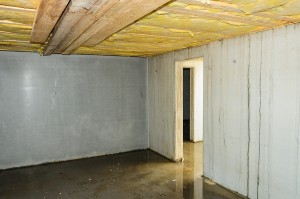 A damp basement is usually due to moisture that has penetrated through walls and floors. This can happen due to a combination of accumulated condensation on colder wall surfaces and improper or inadequate basement drainage. Over time, unchecked basement moisture can lead to problems like mold and even flooding if it is not addressed and corrected. Some typical causes of a flooded basement include:
Defects and other problems with basement walls
Improper (or careless) backfilling around the home's foundation
Improperly graded areas around basement walls
A lamentable lack of drain tile
A damp basement can attract insect pests, and it can be a hotbed for harmful mold growth. And let's face it, having a damp basement is a real drag! You can't put a pool table in a damp basement. You can't host a holiday party in a damp basement. A damp basement makes doing laundry even more of a hassle. A damp basement can even lead to health problems or aggravate existing medical conditions. For these reasons (and more), it's important that you have proper drainage beneath your home's foundation. A dry basement is a healthy basement, one that is free from mold growth and unwanted pests. A dry basement is a great place to set up that pool table and host that holiday party. A dry basement can even make laundry day less of a drag.
The importance of proper basement drainage to the overall health of your home cannot be overstated. Basement drainage can help you to avoid mold growth, and mold-related health problems, as well as a variety of other moisture-related problems. If your basement is a damp and unpleasant place, contact AA Action Waterproofing for a variety of effective basement drainage solutions. From contours and drainage culverts and swells to French drains, sump pumps, and surface drains, AA Action Waterproofing has a variety of solutions to combat your damp basement blues.
This entry was posted in Basement Waterproofing on November, 23, 2015