Basement Storage Tips And Ideas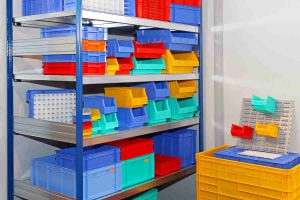 A clean and cleared out basement is a beautiful thing that offers up so many possibilities. Many homeowners like to use their basement as storage because it gives them so much more room in the rest of their house. By putting things you don't need as often down in the basement, you're allowing the rest of your home to look just how you've always imagined it to. But shouldn't your basement be a nice place, too? Even if it's solely used for storage, you can still make the space fun and inviting.
Incorporate Colors
Basements have the sad reputation of being drab and dreary, so you can spice things up with bright colors. Shelving units or storage containers can have a pop of color to make things more interesting, or you can even paint one wall to give it a little bit of edge.
Elevate
Leaky basements allow water to pool on the ground or drip down the walls. To prevent this from getting to your valuables, keep them elevated off of the ground a little bit. Use risers or shelving units to protect items, and even consider racks from which you can hang things.
Use Safe Storage Containers
Cardboard boxes are easy to source and commonly used in basements, but they don't do much in the way of keeping your things dry and clean. Plastic containers will be a bit more of an investment overall but will result in less potential harm to your valuables. Additionally, you can get plastic containers in a variety of sizes to suit your particular needs, whereas cardboard boxes do not come in any uniform size.
Label Things Well
Basements are perfect for storing things that you don't use very often, but that also means it can be a little easier to lose track of where you've placed an item. Try to give your basement storage some kind of rhyme and reason. Make it easy to find things so that you can save yourself a lot of frustration later!
Check In
It's usually not until some significant water damage has happened that we notice a problem at all. To avoid being surprised by leaks and moisture, do routine checks of your basement to make sure it's in top shape. It doesn't have to take a lot of your time, but do go through everything just to make sure you don't have any unwanted surprises like mold, water, or critters. Take a look monthly or even every season to see if you there are any other preventative measures you need to take.
Make sure that before you store valuables in your basement that it's a safe place for your belongings. Inquire about waterproofing today with AA Action Waterproofing.
This entry was posted in Water Damage on May, 21, 2016