What Does It Mean To Waterproof A Basement?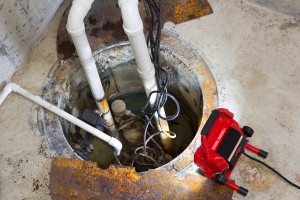 Water is the last thing you want to see seeping into your basement or foundation. It can damage your furniture and belongings, it can stain the walls and carpets, it allows mold and insects to thrive, and it can even have an erosive effect on the concrete itself. It's a fairly good idea, then, to waterproof your basement, but what exactly is involved in this process?
Begin With The Right Construction
Proper waterproofing begins even before the first floorboards go up. House builders typically dig a hole several feet wider than what they need for the basement, and once the basement walls are in place they backfill this hole either with clay or with pebbles and sand. Pebbles and sand are excellent at letting water sift through until it's below the basement floor, but clay tends to absorb water, growing thicker or thinner depending on the rainfall and thus putting stress on the walls.
At the same time, you need to pack the backfill down properly or else the ground will slope towards the walls, allowing rainwater to run up against them and slowly wear them down.
Install A Sump Pump
If the local water table is too high, a sump pump can help. By placing the pump in a hole that goes beneath the basement floor, it can suck up all the water that seeps in and drain it out a safe distance away. Many houses, especially those in flood zones, are required to have sump pumps installed during their construction.
Apply Waterproof Materials
If a crack in a wall or the floor is to blame for water seepage, it's a fairly simply matter to fill it in with a waterproof epoxy. The process may be simple, but the solution can last for ten years or longer.
Other waterproof materials include sealants, coatings, and a special kind of clay which can absorb water and work its way into all the cracks water uses to get in, sealing them shut.
AA Action Waterproofing has over 27 years' experience applying these and other techniques in order to preserve the integrity of our customers' houses and keep their investment in top shape. If you live in Maryland, DC, Delaware, Virginia, or Pennsylvania, contact us today for a free estimate.
This entry was posted in Basement Waterproofing on November, 07, 2015