How To Prevent Flooded Basements And Save Yourself Thousands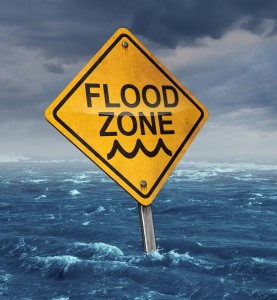 If you're like most home owners, your basement is probably the least-visited room of your house. It's most likely poorly lit, and musty smelling and crammed with your little-used possessions and family heirlooms. Because you may not be paying as much attention to it as you do other rooms in your house, disaster could be lurking with you none the wiser. Cracks in the foundation and basement walls may be letting in water into your basement from thawing snow that came to your area courtesy of the polar vortex. The bitter, arctic air could freeze your pipes and cause them to burst. Sewer lines could back up and spew filth into your home, potentially costing thousands of dollars in clean up. Fortunately, there are steps you can take to prevent the costly scenario of flooded basements, and improve the value of your home in the process.
Implementing preventative steps may cost you some money, but the amount spent pales in comparison to the cost of repairs after your basement floods. Carpet and drywall will have to be replaced as well as possessions, and the cost of irreplaceable items with sentimental value can of course not be calculated. But fortunately, you can prevent flooded basements with a little planning.
First, examine the exterior of your home. Does the soil slope away from your house? If it slopes toward your home, it will drain water right into your basement. Check the gutters and downspouts, are they clear of debris? You might consider installing downspout extensions, to carry water even further away from your home. Check the pipes in your basement, are they insulated? Pipes can freeze in burst in cold weather or create condensation in warm weather. Finally, consider waterproofing your basement. This can save you thousands of dollars in repair costs and hours of worry and stress.
AA Action Waterproofing extensive experience in waterproofing homes, and we're eager to put all that expertise to work for you. We'll provide an accurate, fair assessment of your home's waterproofing needs, and complete the work in a timely manner. We have an A+ rating with the Better Business Bureau, and are rated on Angie's List. We're family owned, and have been serving families and businesses in Maryland, Delaware, Virginia, Pennsylvania and  New Jersey for over 27 years. Don't take risks with your home, call or fill out our online form for a free estimate today!
This entry was posted in Water Damage on March, 24, 2014