Preparing For Flood Dangers During Maryland's Hurricane Season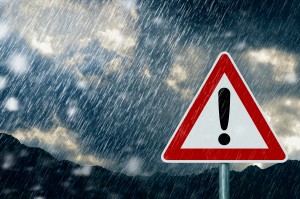 Hurricanes are high wind storms, and as with any high wind storm, one of the safest places you can be to ride out the storm is in the basement. Maryland is a mid-Atlantic coastal state, which means Marylanders experience the risk of hurricane season each and every year. While Maryland may not see as many storms as more southern coastal states like Florida or the Carolinas, it does see its fair share, and knowing how to keep flooding at bay can provide you with just the shelter you need in order to safely ride through these strong annual storms.

The reason that basements are often touted as the safest place to ride out a hurricane is due to their lack of windows. While basements may have smaller upper windows or doors, they're typically not surrounded by walls full of windows like rooms in the upper portion of the home, and this is due to how they are set comfortably underground. Windows breaking due to high winds or flying debris can seriously injure occupants of a home during a hurricane type storm, and walls full of windows can present a significant danger when it comes to falling trees or other large projectile objects. By staying in the basement, you're staying away from fragile glass as you're protected by strong walls, but you'll want to make sure your basement is really safe by preparing for flood dangers.
Flooded basements are often par for the course during Maryland's hurricane season, but basement waterproofing can mean the difference between having a safe haven during the storm, or just another hazard to worry over. A flooded basement is not a basement you'll be able to safely take shelter in, and you'll be left with health hazards and stressful cleanup once the storm passes by, so making sure to take care of your basement's potential for flooding before the storm season starts is always recommended.
At AA Action Waterproofing, our individual approach to different basement waterproofing strategies allows all basements to be waterproofed to their maximum ability, as we know that there is no "one size fits all" waterproofing method to work for every different type of basement. What this means for your Maryland hurricane season is that you can have a safe and waterproofed basement you and your family can take shelter in once the strong storms start to reach land.
If you plan to use your basement as a safe haven during this year's mid-Atlantic hurricane season, call us at AA Action Waterproofing today to see how our basement waterproofing services can help!
This entry was posted in Water Damage on May, 23, 2015