Basement Flooded? Stay Safe With These Important Tips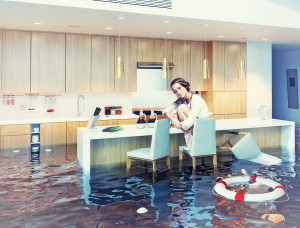 If your basement is flooded, then you should take action right away to ensure overall safety.

When a flood starts, you might feel tempted to panic at first. Remember that there's a limited window of time in which you'll be able to take action and remove items from the flood zone.
The first thing that you should do is turn off any and all power to the basement.
If you can do so quickly, remove all light bulbs from light fixtures within the room. This will keep them from shattering, which is very important with modern bulbs that have mercury.
Next, you will want to be sure that you remove anything that could worsen the situation, such as foodstuffs or anything that could make the flood water more dangerous or toxic.
Assess the flood situation quickly and determine whether you can reduce the flow of water using a bucket or other item. Remember that the flood will probably become worse over a short time.
Remove sharp or dangerous items that could become concealed and float within the water when the room is fully flooded.
Once all of these dangers are taken care of, triage the remaining items in the room:
Evacuate important paperwork that might be difficult for you to replace.
Remove high-priced items and electronics if they are safe to move alone.
Finally, remove large items such as furniture if you have any time left.
The Most Important Thing You Can Do Is Fix Your Basement With AA Action Waterproofing
The longer your basement remains flooded, the more it is likely that something dangerous will take place in the basement or elsewhere in the house. It's very important not to underestimate the risks that you take on when your basement is full of water.
Luckily, you have options when it comes to completely fixing your basement within a short period of time. With AA Action Waterproofing, it has never been easier to solve the problem.
Our team members can be on site at your home or business within just hours to resolve the issue before it becomes even more serious. We will both drain and waterproof your basement quickly.
There are so many risks involved with having a flooded basement that minutes really do count. Mold could be blooming in your basement, foundation, and elsewhere within your home.
If you need immediate service to take care of your flooded basement, call AA Action Waterproofing right now. We offer the highest quality of basement waterproofing service.
This entry was posted in Water Damage on January, 21, 2015