Foundation Repair in Glyndon, Maryland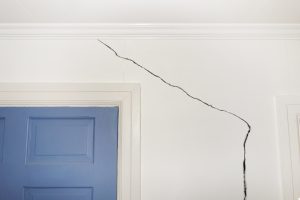 Located northwest of Baltimore, Glyndon preserves a certain charm that was present at its beginning over 100 years ago. This Victorian summer village was able to thrive and grow due to the emergence of the Western Maryland Railroad in 1860. People have decided to settle down in Glyndon because of the landscape (i.e. gorgeous green expanses, tall trees), and the architectural design of the homes (i.e. two or three stories tall, wide halls, and vast porches).
As beautiful as they are, the houses in Glyndon have also been known to suffer foundation damage from the weather and elements present year-round. Foundation repair in Glyndon homes has become more common than you might think. If you're a homeowner in the village of Glyndon, it's important to be able to recognize the signs of foundation damage within your household. There are various indicators to be aware of, so we will make sure to examine what these signs would be. If you notice that your home has some of these signs of damage, it's crucial that you contact a reputable foundation repair company to examine the situation. Once there, a knowledgable expert in the field will analyze the foundation, and determine what measures need to be taken.
What Foundation Settlement Will Look Like Around Your Glyndon Home
Over time, the walls of your foundation may begin to crack and separate. The effects of weather on the soil around your property is usually the most common reason for this occurring. Soil that is unstable and issues with drainage around your home attribute to this. Dry heat removes moisture from the soil, allowing it to shrink and move away from your home's foundation. This space that is created allows for foundation movement and settlement, causing drywall cracks, concrete cracks, and eventually, stuck windows or doors. This foundation settlement refers to the downward motion of your house or building from its original position. Some form of settlement is normal around most homes, but if the soil that your foundation was built on is not compact, and contain spaces or voids, you may experience serious issues with foundation settlement. If you notice a crack about a quarter inch wide, or several smaller cracks within the ceilings, walls, or foundation slab, this may raise concern. To play it safe, it would be wise to consult a foundation repair expert to examine your Glyndon home. Having thorough knowledge on the subject, these foundation repair professionals will know how much damage has been done and come up with a detailed plan in order to resolve this issue.
The Effects Of Hydrostatic Pressure
On the opposite end of the spectrum, heavy rain and snow can make the soil around your home extremely damp. This is obviously a fact about nature, but if you fail to have a properly working drainage system around your property, then you can potentially be at risk for severe foundation damage. Excess water will accumulate around your home, creating foundation problems due to hydrostatic pressure. Hydrostatic pressure refers to water pressing against the basement walls, causing the weight that's against the walls to exceed its capacity. This results in the bowing and buckling of your basement walls. This problem can be addressed in a number of ways, and each solution has its pros and cons. The best way to figure out what you need is to contact a foundation repair expert. These people specialize in foundation repair around Glyndon and should know the best course of action to take.
Contacting The Right Foundation Repair Glyndon Company
When dealing with foundation repair in Glyndon, a situation that is serious and can have serious consequences, it's important to contact somebody who is local and reputable. A foundation repair company from out of state may not understand how the elements affect the lands of Glyndon. They may provide a solution that isn't going to work entirely, providing a band aid of sorts, but not fully eliminating the issue. With over 28 years of experience in the Glyndon area, our family-operated business will be happy to come inspect your property and figure out the best way to get rid of this problem once and for all.