Basement Waterproofing White Marsh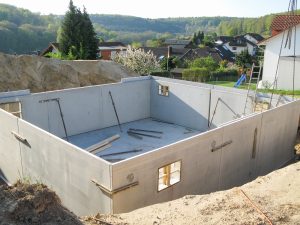 Located just northeast of Baltimore, White Marsh was planned and built around the White Marsh Town Center, which includes the popular White Marsh Mall, White Marsh's civic buildings, and the country's oldest IKEA store still remaining.
The plethora of retail and office space in White Marsh has served it well, attracting new residents moving there for jobs and serving as an attractive bedroom community for Baltimore commuters.
Whether you are thinking about buying a home in White Marsh, or you already own one, basement waterproofing in White Marsh is one of the best ways you can protect your home. As long-time residents may already know, White Marsh is prone to unpredictable precipitation.
Although the area typically averages less than 50 inches of rainfall each year, most of it falls in a very short time span in unpredictable winter blizzards and summer hurricanes or thunderstorms. Under normal circumstances, this water drains away from your home and your foundation. However, if your foundation was not properly built, the water will pool around your foundation, and eventually find its way into your basement.
Basement Water Damage
The worst thing about water leaking into your basement is not water damage to your property. Rather, leaking water can be a sign that you have a foundation problem. If water is not draining away from your foundation properly, over time, this can cause your foundation to shift and sink, resulting in structural damage to your home.
Although it may not be as pressing as a sinking foundation, mold is just as serious concern for leaking basements as a sinking foundation. Mold feeds on dead organic material such as wood and drywall, both of which are found in abundance in your basement.
As the mold grows, it releases spores and toxins that are harmful to human health. In large quantities, the spores can exacerbate allergic reactions including nasal and sinus congestion, itchy and watery eyes, chest and throat congestion, headache, and sneezing.
Mycotoxins produced by the spores can cause respiratory damage, neurological problems, and in large enough quantities, can even be fatal.
Basement Waterproofing by AA Action Waterproofing
There are three primary causes of excess moisture in your basement: condensation, runoff, and subsurface water. The most likely cause of a leaky basement in White Marsh is likely to be runoff, which is essentially rain water or melting snow that seeps into the soil and fails to drain away properly.
The first step in repairing a leaky basement due to runoff is patching the cracks and gaps in your foundation, especially the seams where your foundation walls meet the floor and ceiling, with polyurethane caulk or hydraulic cement.
Further solutions involve cleaning your gutters and installing gutter extensions so that rain water falls away from your foundation and drains away. This process can be aided by regarding the soil on your property so that the soil slopes away from your foundation.
If none of these methods are effective, or the initial problem is severe, it may be necessary to install a system of interior or exterior drainage pipes around your home. These pipes are designed to collect excess water on your property and divert it away from your foundation.
AA Action Waterproofing also specializes in mold remediation service. Even dead mold particles can continue to pose a danger to the health of you and your family. It is important to hire a professional mold remediation service like AA Action Waterproofing to ensure that all traces of mold are removed from your home.
About AA Action Waterproofing
AA Action Waterproofing is a family owned and operated business serving the mid-Atlantic area including Maryland, D.C., Northern Virginia, Pennsylvania, New Jersey, and Delaware. We have been protecting homes in the mid-Atlantic for over 28 years, and we have never encountered a basement or foundation problem we couldn't handle.
We take the utmost pride in our work. Unlike some other companies that provide basement waterproofing in White Marsh we don't use any subcontractors to ensure that only the best quality workmanship and materials are used on our projects. We are fully licensed, insured, and bonded, and our work comes with a lifetime warranty.
If you need basement waterproofing in White Marsh, call AA Action Waterproofing for a free, no-obligation inspection and estimate today.