WATERPROOFING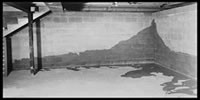 Installing a basement waterproof system ensures a drier, healthier environment by turning your dark, musty basement into a usable living area while increasing your property's resale value. With over 28 years of experience, we offer proven waterproofing systems for both residential and commercial properties.
Call AA Action Waterproofing today and ask about our lowest price guarantee in writing. Our lifetime warranty* is approved as proof of a dry basement by VA, FHA, conventional lenders and real estate professionals and is transferable if you sell your home.
Our Basement Waterproofing Services Include:
Pre-construction waterproofing consultations
Certified mold testing & remediation services
Foundation and structural repair including retaining walls
Complete basement waterproofing services
Waterproofing wall coatings and sealants
Sump pump installation
Battery back-up systems
*Call for more details about our Lifetime Warranty.
Your Basement Waterproofing Experts!
We're your Basement Waterproofing experts. Here, ready to serve you and your family. We look forward to helping you fix your leaky basement or leaky crawlspace right away.
Just pick up the phone and call us at 410-705-5714 now. We offer free estimates and free quotes before you commit to the project.